Email Marketing Ideas to Increase Holiday Sales: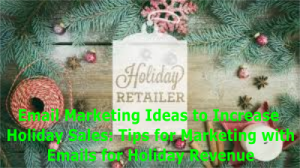 Tips for Marketing with Emails for Holiday Revenue. Online business owners can prepare for the holiday season and reach both current and potential customers by using effective website marketing tips. One often overlooked web marketing tip is using well-structured emails that create a sense of trust and honesty.
A holiday season email message can provide a quick and easy method for promoting a product or service. An online business can proactively create a positive outcome to an email marketing campaign. And, add to total revenue without spending a fortune.
Enhance the Subject Line in Business Emails
Online business owners should be aware that customers receive additional emails during the holiday season. An online owner needs to stand apart from competing businesses and avoid using a general subject line such as "Hi" or "Just checking on you".
Give customers a reason for opening business emails. One way is to highlight the email subject lines by using the business name. Clients are more likely to respond to a business-related emails from well-known sources than non-business emails.
Keep Email Marketing Simple
An owner should maintain a professional image with all emails. Avoid sending long emails during the holiday season since email readers want quick and simple information. The email marketing message should be kept at one page.
Write holiday emails in short paragraphs to draw attention to the marketing message. An email reader should be able to understand your holiday offer and feel the desire to make an online purchase.
Proofread Business Emails for Better Holiday Sales
It is critical to carefully review business emails before sending them to online customers. One tip is to wait before sending,so the business owner can check the emails for correct spelling and proper tone. Otherwise, a customer may feel like the business is unprofessional and choose another online store.
Another business holiday sales tip is to allow another person to review the emails such as a business partner or an employee. A good first impression is vital for gaining the trust and respect of online customers who have multiple web store options.
Send Emails to the Correct Recipient
A correct email address is essential to ensure that the email marketing plan will provide additional revenue during the holiday season. Maintain the customer email list by sending out information during the calendar year. For instance, an owner can send quarterly flyers describing new products and services.
The efficiency of an email marketing holiday campaign can be maintained by enhancing the subject line in business email, keeping emails short, proofreading business emails and sending emails to the correct customers.