A Guide to Creating a Successful Online Artist Site or Gallery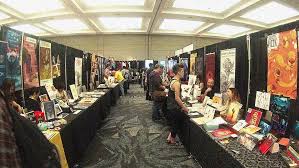 Showcasing work via an artist website doesn't have to be a complicated process. When planning an online artist portfolio, keep your buyer or potential buyer in mind throughout the process.
Showcasing and Selling Artwork Successfully Online
Developing an artist website or online art gallery begins with selecting the right outlet for showcasing and selling art. While making art available for sale online can do wonders to expand audience scope, great work must be done to attract and engage potential customers who may only see an art portfolio through their computer monitor. Selling art online may seem overwhelming, especially for those less technology-inclined. The key is to start small and make use of the right channels to create a strong online artist portfolio and to showcase work with the buyer in mind.
Starting with Ready-Made Online Artist Storefronts
One good place to start in developing an artist website or artist storefront is through Etsy, the place for all things handmade. Etsy provides customizable storefronts to use as an online art shop for all types of artists and crafters, including fine art, photography and fashion. They offer easy payment collection through PayPal. Artist websites and artists storefronts through Etsy can be up and running in minutes, and Etsy members enjoy a world of support, ideas and inspiration from fellow artists in the Etsy community. In 2015, artist sellers on Etsy enjoyed a combined $88.7 million in gross sales.
Using Online Art Directories and Art Marketplaces
There are many online web development partners that offer turnkey online art gallery products specifically for artists and crafters looking to create artist websites. These vary from simple content management systems designed with artists in mind, to more complex networks of artists and crafters all selling their pieces online. Visit Mashable's artist toolbox for some great options for professional artists as well as those just starting out. Utilizing artist marketplaces and art directories to setup an artist website or online art store will also help to increase promotional opportunities and search engine rankings for the artist website.
Creating an Artist Website or Artist Gallery from Scratch
Online-savvy artists can develop custom online art portfolios and artist websites. Self-hosted blogs, such as WordPress.org, make excellent choices for building an online art portfolio or website for artists. For the Do-It-Yourself artist, many free, professional website portfolio themes are available for use and blog widgets allow for complete artist site customization- including adding a shopping cart or PayPal and a image slideshow to an online art gallery.
For smaller artist websites, many small business website hosts can suggest affordable web design partners who can design and setup effective artist e-commerce sites for a fee. Pappashop.com, MerchantMoms.com and Yahoo! Small Business E-Commerce hosting each offer such services.
When building an artist website, it is important to remember that the number one priority for artists online is to attract and engage the right audience. Whether the artistic medium is paintings, jewelry, pottery or tea cozies, displaying art with the buyer in mind is as crucial online as it is off- perhaps even more so, because online customers are unable to tangibly interact with an artist's work. An artist website or gallery should have plenty of photos or other media that really show off the pieces, along with engaging copy that describes each piece.
The look and feel of an artist website or art portfolio should reflect the artist's style or brand, but should not be complicated or complex. Customers should be able to navigate the online art gallery quickly, view pieces easily and in detail, and buy or contact the artist simply. If art is available for sale, the checkout process on the artist site must be straightforward and secure. If the site will not have e-commerce, customers should be advised on each relevant product page as to where art can be purchased.
Once an artist website has been created, the next step is to use the site to tell an authentic, interesting story and to use online media to promote the artist website.