Rubber Wrist Bands as a Fundraising Idea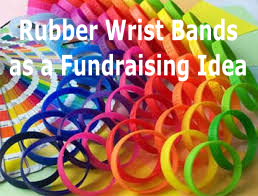 Customized Bracelets Popular to Raise Awareness, Funds for Charities
These customized wristbands have become a fashion accessory and a simple, inexpensive yet highly effective marketing and fundraising idea. Social acceptance of the bracelets means that people from all ages sport them and their uses are an accessory for casual and business wear.
Nonprofit groups raise funds by creating the wristbands in bulk with embossed lettering or a simple graphic. The most common fundraisers are in support of sports teams, places of worship, arts initiatives and capital campaigns for libraries, arena and swimming pools.
The Silicone Bracelet as a Fundraising and Awareness Idea
However, more groups are using the bracelets in new ways, to raise the understanding, awareness and moral support for causes and events such as trade shows, job fairs, conferences and more personal occasions including weddings and family reunions.
Groups and individuals also buy blank, brightly colored bracelets and use the wristbands as a canvas, drawing messages, art and designs with permanent marker. Silicone bracelets are also available with a scent such as strawberry, lemon and lavender and in glow-in-the-dark colors such as red or green.
The color of a wristband carries meaning. The significance of the color began with the yellow silicone wristbands sold by the Lance Armstrong Foundation to raise cancer awareness. Today, many other organizations claim colors for their causes. Red is often linked to the fight against AIDS, diabetes and heart disease, being substance free, and having courage.
Rubber Wrist Bands Color Signifies Support, Theme
Purple or lavender stands for the fight against cystic fibrosis, pancreatic cancer and animal abuse. Blue signifies the fight against colon cancer and child abuse while white indicates a fight to end poverty. The more adventurous can order wide 3D wristbands that have motion and effects applied to messages with high resolution photography and digital animation of moving swirls, explosions, zaps or zooms.
Designs and lettering on rubber wristbands are often simple and intentionally vague, acting as a way to start conversations about a cause of concept. Examples include Find a Cure, Support Our Troops, Courage, Spirit, Love and Hope.
Customized Bracelets Priced Well for Awareness and Fundraising
The rubber wristband market is competitive which means that groups can often get good pricing and receive orders quickly. Ordering custom bracelets can be done online and people should pay attention to the cost for each band, which should drop to as low as 25 cents (U.S.) for as many as 10,000 bands and as high as $1.10 each for an order of 250 bands. Ensure you order from a manufacturer that offers many color options and free shipping.
Customized wristbands take a page from a continuing hot marketing trend to promote awareness, fundraise and mark a special event. This inexpensive fad remains popular as the crowded market to produce and supply bracelets widens the selection, style and pricing.