The Best Graduate Business Marketing Degrees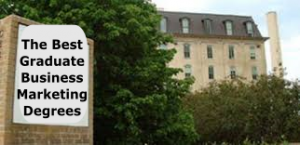 Northwestern University
U.S. News surveys rank the marketing graduate program at Northwestern University's Kellogg School of Management as the best in the United States. Students who choose to pursue graduate study in marketing may do so at the MBA or doctoral level.
For students who wish to study marketing at the master's degree level, Kellogg offers both two- and one-year full-time MBA programs in addition to a part-time MBA degree and an Executive MBA degree geared toward busy, working professionals. Those who want to pursue a Ph.D. may do so at Kellogg and can choose marketing from among seven major areas of study.
University of Pennsylvania
As the first collegiate business school, the University of Pennsylvania's Wharton School of Business is practically synonymous with business success. Many Wharton graduate and undergraduate programs rank highly on U.S. News lists, and marketing is no exception, with deans and business school faculty rating the graduate marketing program at Wharton as the second-best in the nation.
Students who wish to study marketing on the graduate level at Wharton may pursue the MBA degree or the Ph.D. In addition to the option of an MBA in Marketing, interested students may choose to pursue a joint MBA degree in Marketing and Operations Management, the only official joint major in the MBA program (although students may choose to combine marketing courses with courses from other MBA major departments). Students who earn Ph.D. degrees in marketing from Wharton frequently go on to teach at other top business schools, including Northwestern and Duke (the third school on the U.S. News & World Report list of Best Graduate Schools in Marketing).
Duke University
Duke University's Fuqua School of Business ranks third among graduate business marketing programs, according to those surveyed by U.S. News. In addition to a Ph.D. major in marketing, students can study marketing in a variety of Fuqua MBA programs.
In addition to the Ph.D. major in marketing and the opportunity to concentrate in marketing via the traditional, full-time MBA program, students can also benefit from the chance to study marketing through one of Fuqua's additional MBA programs. Busy, experienced professionals can earn an MBA through Fuqua's Weekend Executive MBA program. And those looking to gain an international perspective on marketing can enroll in either the Cross Continent MBA program or the Global Executive MBA program.
Prospective graduate students in marketing or other business specialties should carefully research schools in order to determine a program that would be the best fit for them personally and professionally. Students should also make sure that they have taken the necessary admissions tests (most like the Graduate Management Admission Test, or GMAT, will be required by the business school of your choice) and will want to check with schools to ensure that they meet undergraduate grade point average and/or other professional requirements necessary for successful application to MBA and Ph.D. programs.