A Smart Approach to Web Design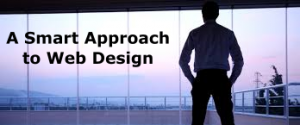 Consider Functionality Usability Aesthetics and SEOSmall business website
Most web sites are designed with functionality and/or design as the focus, but there are additional areas that should be addressed if a web site is successful. These areas are:
Usability: Can the users find what they need?
Functionality: Does the site function well?
Aesthetics/Branding: Does the site reflect the company brand aesthetically?
Search Engine Optimization: Is the site clearly visible by search engines?
How Usable is the Site?
Usability refers to how well users can find what they need on a web site. If a user has to think too much to figure out how to get around a web site, they may become discouraged and leave quickly! Every user has a question that needs to be answered, and the answer has to be evident within seconds.
Typical questions that aren't answered clearly on e-commerce sites, for example are, "where is the contact information?" What is the procedure for purchasing?" and "What are the hours of operation?" These simple answers are often missed in the design process and this can have a huge impact on how useful users find a website and ultimately what credibility they give to the site and business.
Does the Site Function Well?
Functionality deals with how well a web site performs. Slow loading pages, long download times for media, broken links and error pages are all functionality issues. Most users have access to broadband connections, but in remote areas some do not. For very large media files, let the user know that it may take a few moments to load the media, or offer different versions so users can choose which file they want to view.
Another issue is that of browser compatibility. Older browsers may not show information on a site as it is intended. Design considerations should be made backwards compatible for older browser versions and various browsers, such as Internet Explorer and Mozilla Firefox. In all cases consider the user audience and try to account for as many technical variations as possible.
Does the Site reflect the Brand?
Aesthetics and branding are important in creating a sense of credibility and to maintain consistency across all marketing efforts. Be sure to consider the target market user during the design process. For example, if targeting retirees, design the site to appeal to older users by making links clearly visible and allowing for font re-sizing.
If marketing to 20-somethings experiment with visually engaging interactive and social media. But don't get too creative or the site could wind up a usability nightmare! In all cases make sure when the user comes to the site they know where they are and who they are visiting. A logo should be clearly visible on every page.
Is the Site Optimized?
Don't under estimate the value of search engine optimization. SEO is configuring a web site so that the search engines like Google and Yahoo can find the site and index it properly. Properly indexed sites are seen by the 49% of users that go to a search engine to find what they need! SEO is usually best done by a professional, but there are lots of books and resources that can provide basic information.
Web Site Design Success
A web designer who considers the four areas of usability, functionality, aesthetics/brand and SEO can guarantee that the completed web site will be successful. A successful web site is one that is found by the search engines, captures the intended audience, keeps that audience from leaving too quickly, makes it easy to purchase items or find information and creates a sense of credibility and confidence.