Email Marketing Campaigns for Universities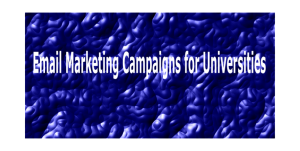 Targeted Email Marketing Strategies in Higher Education. Universities considering using email marketing should first decide the appropriate audience for the campaigns. Audiences include future students and parents, alumni, other donors, and even future faculty and staff.
The key to the best marketing ideas involving broadcast email campaigns is to consider thoughtfully how to get messages across in the time needed and within the marketing budget.
University Email Marketing Campaigns Must be Compelling
With all university email marketing campaigns, follow the golden rules:
People must allow email addresses to be used by universities. Check for these permissions
Determine how often the email marketing campaign should send messages. Should an email be sent weekly, monthly or less often?
Ask audiences constantly for feedback and really listen to implement suggestions. Email marketing campaigns will improve best when suggestions are set into action
Segment each email campaign for each audience; these audiences can include sports alumni, prospective students and parents by region or degree program of interest
Make sure the subject line on the email is relevant
Keep the most relevant information in the uppermost section of the email
The University of Manchester invested in email marketing management to improve its student recruitment. The university's strategy is part of a communications program that will send relevant, timely and, hopefully, compelling information to prospective students.
Another good example of university email marketing management and strategies is found at Bond University in Australia. Bond uses email campaigns to engage alumni by sending emails to tens of thousands of alumni worldwide.
Bond emails several online publications such as those targeted to update alumni using clean templates with very simple navigation and short, punchy information.
Email Campaign Management for Higher Education Includes Using Links
Most universities that use email marketing to send publications to alumni or prospective students include "read more" links after the first sentence of each longer article. Readers can graze the content and drill into the stories to read them completely.
Increasingly, universities are using email campaigns to invited segments of a database to events, such as open houses, tours and receptions, and collect registrations online. With such targeted email campaigns, the following tips will lead to greater success:
Personalize content for each group in several paragraphs of the email.
Change the content line to make it relevant for each audience.
Provide instant email confirmations when asking a prospective student or alumni to sign up for an event.
Use an email management system that allows for time-saving registration forms that pre-populate with data.
Schedule email reminders and follow-up emails to audiences as part of the campaign.
Use the data collected during the campaign to print name labels and registration lists for use during the event.
Email marketing campaigns for universities are the leader in reaching broad audiences in a targeted manner. Higher education marketers have plenty of audiences including alumni, donors and future students and providing timely, relevant and compelling email messages are a key tool.