How to Easily Create Your Own Blogspot or Blogger Blog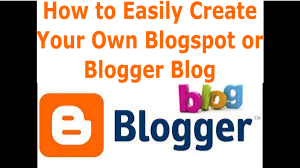 Registering and Naming Your Blog
When you get to the Blogger homepage, you will see in an orange box the words "Create a Blog". Once pressed, on the next screen you will see is a registration form. You will need to supply basic information here.
Once you are registered, you have the option to actually create the blog from your Dashboard area. You can create as many blogs as you like, one at a time. The link for this function can be found in the upper right hand area of your Dashboard. Simply click the link, name your blog, and it is ready to be shaped into your creation!
Designing Your Blog
The next step is to design your blog. Press the design button under your blog, and then press template designer, which is located toward the top. From there you will be led to an area where you will be able to
change the dimensions of your blog
choose different layouts and numbers of columns
choose a colored background or wallpaper
choose text color and link color
choose many more customizations
Once you have chosen what your blog will look like, click the link in the upper portion of the page that says "Go back to blogger.". Here you can actually add and arrange page elements. You can drag each element where you want it on this page. Simply click and drag.
To add and element, simply click on an "Add a Gadget" link. A box will pop up offering you choices of items to add to your blog. Add one or all! From link lists to profile information, Blogspot pretty much has you covered. The newest option is to add a list of most popular posts. You can even choose to add html from a third party.
Writing on Your Blog
To write on your blog, simply click 'New Post'. A text editor will come up where you can type your posts. You can add images and links here as well.
Some neat features of this text editor is that it automatically saves your post as a draft ever so often. This can be very helpful should you get disconnected or time out. Also, you can preview your post before you hit submit.
Don't neglect the label area at the bottom of each post. Be sure to put in keywords related to your post in this area so that people who search your blog will get appropriate search results.
Additional Tips
It is worth noting, also, that you must hit 'New Post' then 'Edit Pages' to access the page area of your site. You are allowed up to ten pages that can be displayed on the top or side of your blog. Common page themes include About Me, Subscribe, Post Index, etc.
You will also notice a section that says 'Settings'. Peruse this area and change what you'd like to change. For instance, here you set posts to be approved before they are published. You can also put in your Feedburner information here for RSS posts, ect.
And last but not least, when you click 'Monetize', you can add Google Ads to your page to try to make a little (or a lot) of money. You can add as many Adsense boxes to your blog as you like. The only real rule is- don't click them yourself!