Choosing the Best Low-Cost Email Marketing Software Service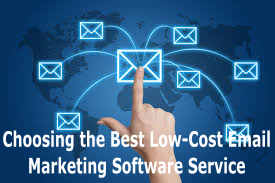 Advancements in email marketing software services have made cost-effective email campaigns with sophisticated functionality accessible for businesses of any size. Major email marketing services such as VerticalResponse, Constant Contact and iContact offer easy online access for creating, launching and measuring results of email campaigns.
Review the key features and rates offered by some of the best low-cost email marketing software services to choose an email service that cost-effectively produces big results for your business.
Review of Rates for Low-Cost Online Email Service Providers
Email marketing is without a doubt one of the top low-cost online marketing tools for businesses. However, be sure to examine the cost structure of email service providers carefully. Some email providers charge on a per email basis, while others may charge a monthly subscription rate. For companies with larger email volumes (such as monthly e-newsletters or weekly special emails to a large customer and prospect base), a monthly subscription rate may be more cost effective than a per email charge. Conversely, it may be cheaper to be charged on a per email rate for a smaller customer and prospect database. Businesses should match their email marketing requirements with the best cost structure.
Pricing programs for top email marketing software services include:
VerticalResponse. VerticalResponse charges per email (or pay as you go) plans as well as monthly subscription plans. Pricing for pay as you go starts at $.015 per email (decreasing for larger amounts purchased) and monthly plan rates start as low as $10 a month for up to 500 emails a month (with applicable price breaks for larger quantities).
Constant Contact. Pricing for Constant Contact is monthly based on the number of contacts in a company's email database, but there is no limit to the number of emails that can be sent monthly within the monthly cost structure. Rates start at $15 a month for up to 500 emails in the database with an unlimited number of emails sent to that database of contacts. There are pre-pay discounts for longer commitments (6 months or more), as well as non-profit pre-pay discounts.
iContact. With tiered plans based on number of subscribers or contacts in a database, iContact offers plans that start as low as $8.46 per month (for annual accounts), and $9.95 per month (for monthly accounts) for up to 250 subscribers. Each tier of subscribers has a price break for annual accounts with iContact.
Best Features Offered by Low-Cost Email Marketing Services
Although matching a pricing program with email marketing requirements is important to realize the best rate based on how the service is utilized, key features offered is equally important.
Most email marketing services offer basic functionality to log onto an account online, design an email campaign, select recipients, launch the campaign and monitor real-time tracking results. However, in recent years email service providers have developed more sophisticated features that help businesses deliver big impact results for an affordable investment.
Key features and capabilities to evaluate with each email marketing provider include:
Customizable Templates
Hosted emails and images
List-building tools
Double opt-in and unsubscribe functions
High delivery rates
Real-time reporting
Auto-responders
List segmentation or split testing
Personalization capabilities
Social media sharing tools
Video embedding and integration
Application integration (such as iPhone or Android apps)
Integration with customer relationship management programs (such as SalesForce.com)
Online support and email best practice guidance
Each email marketing service offers free trial periods to evaluate which services offers the best email campaign features and rate structures when choosing an email marketing provider for your business.