Email Marketing: Nine Easy Ways to Grow An Opt-in List For Free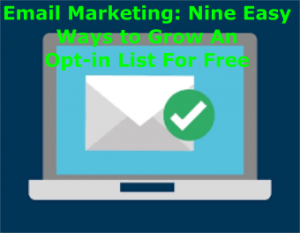 Nine Easy Ways to Grow An Opt-in List For Free.
An opt-in mailing list is the core of a successful online business. The best way to grow an opt-in list is by attracting prospects to visit one's website or blog. Once they visit the website, they can be induced to subscribe to one's email opt-in list in exchange for incentives such as a free report or e-book.
If one cannot spare money for advertising such as Pay-per-click ads, one can use the following strategies to attract visitors and increase traffic to one's website.
1. Submission of Blog URL to Search Engines
The first step to promote one's blog is to submit the blog URL to search engines. Although there are hundreds of search engines, one needs to submit it only to the three main search engines: Google, Yahoo and Microsoft Bing.
The submission process is simple and hardly takes a few minutes. This will ensure that one's blog has a chance of appearing in their results pages. Best of all, it is free!
2. Article Marketing
Another effective step is to submit articles to article directories and add a link to one's website in the resource box at the end of the article. The article must have enough value to make readers eager to visit one's website for more information.
3. Regular Contact With Email Subscribers
One should stay in constant touch with the subscribers in one's email list, by means of an ezine, preferably once a week and include useful information as well as free offers and services.
4. Social Network Marketing
A great way to optimize one's marketing efforts is to invite one's Twitter followers and Facebook friends to subscribe to the email mailing list and invite email subscribers to follow one on Twitter and Facebook.
5. Forum Marketing
Posting messages on forums is a very effective way to promote one's website. Writing informative comments and adding a link to one's website in the signature text in the posts can yield rich dividends.
6. Question & Answer Websites
Similar to forum marketing, one can check these sites such as Yahoo Answers for relevant questions and provide answers with a link to one's website for more information.
7. Press Releases
One can send press release to free online distribution services such as PR Log and PR Free as well as to other websites interested in one's products and services.
8. Submission of Podcasts
A podcast is an audio file, usually in MP3 format. One can record podcasts using free software and submit to sites such as iTunes.
9. Uploading Videos to YouTube
Video-marketing has become the first choice of every online business. No Internet marketer can afford to ignore video-marketing any longer because of the rocketing popularity of YouTube. Fortunately, it is surprisingly easy to set up, shoot and edit videos. One can then add titles and captions promoting one's website and upload to YouTube. YouTube also offers the option of embedding videos in one's own website.
One can use the above nine strategies to attract a steady stream of visitors to one's website or blog. Once people visit the website homepage, there is a good chance some of them will subscribe in the opt-in box, especially if one offers a valuable incentive. The more the number of subscribers in the opt-in email list, the better the chances of sales of one's products and services