The Value Of A Loss Leader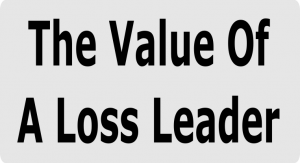 Losing Money On Some Products Can Help Sell Others
A loss leader has often proved to be a valuable strategy for many businesses but many people do not really know what a loss leader is and what kind of service such an item can perform as a part of the marketing efforts of a business. As a part of your marketing efforts a loss leader may be appropriate but to use it effectively you need to know exactly what it is.
What Exactly Is A Loss Leader?
A loss leader is a product that is sold at very little profit and often below cost that is used to attract attention to other products and services a company may offer. Often businesses will use such products to attract customers for the first time in the hopes of earning repeat business from them at a later time and at a higher price. For retail concepts the goal is to attract the buyers attention to other products that may be offered at the regular price
Examples Of Loss Leaders
One example of a loss leader is in the carpet cleaning business. You can often find offers in your local phonebook that advertise two rooms cleaned for the price of one as an example. The goal for the company offering the deal is to either earn future business from you or to sell you on cleaning additional rooms within the house at a higher price. Many retail stores us the same tactic by putting normally low cost items on sale regularly thus attracting your attention. The goal of course is to entice you into buying other products after you have walked through their doors.
Tactics Used With Loss Leaders
Some of the tactics that are employed to take advantage of a loss leader include the placement of products. Loss leader products will often be placed at the back end of stores so that you are forced to pass many of the other products that the store is selling at regular price. Another popular loss leader product involves video game consoles. These consoles are typically sold at cost or under because the goal is to lock you into buying the video games produced for those consoles. It's the video games that make the real money. The same is done with computer printers. The ink cartridges are the money makers for the company.
The Benefit Of A Loss Leader
Cell phones have been used as a form of loss leader for many years. The payoff for the company is in having you sign what is usually a two year contract to use their service. And if you want to switch service providers you get hit with an early termination fee which gives the service provider a bit of insurance that discourages you from leaving.
Small Companies Need To Be Careful
There are many other examples of loss leaders in existence today. It has become a very popular strategy to use when a company wants to build up name recognition for a product or service. But smaller companies need to be careful when using this strategy because if it backfires you may not have the financial cushion to absorb the impact.