7 Essential WordPress Plugins for Your WP Blog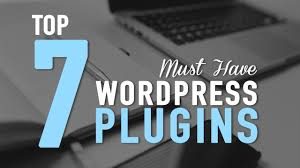 Akismet
Akismet is undoubtedly the most popular Word press plugin today. It keeps spammers at bay by comparing the reader's comments with its near exhaustive spam-comments database thus keeping your blog spam free while saving your readers the trouble of having to type in illegible Captchas. As a testament to its usefulness, nowadays Akismet is included with all standard WordPress downloads.
Advertisement Manager
Advertisement Manager is one of the most effective plugins for running third-party ads on your blog. It works great with most advertisement codes (both HTML and Java) including Google Adsense, Adbrite and Bidvertiser. It also allows you to save all the different ad codes so that you can switch between them easily. If you are looking to make money from CPC advertisements then Advertisement Manager might just be the all in one WordPress plugin you need.
Nextgen Gallery
Nextgen Gallery is one of the most popular and feature rich WordPress gallery plug-ins available in the market. Armed with almost every feature you can think of, Nextgen Gallery will most probably meet all your needs and allow you to handle all your blog photos just about any which you want. However, configuring it to your liking might take a bit of practice. So if your only requirement is displaying a few photos in your blog posts then you might consider trying out one of the more user-friendly (and less customizable) WordPress gallery plugins.
Share This
Share this is the popular little green button that appears on each post and allows your readers to favorite your articles on various social networking sites as well email them to your friends.
Recent Posts
This a pretty simple plugin which displays your recent posts and is particularly helpful if your reader has surfed in from a search engine to one of your older posts.
WP Robot
WP Robot is a very efficient auto blog plugin, and whereas auto blogging is seldom encouraged it can often help you in compiling some fresh content for your blog and keeping your readers as well as Google interested during those dry spells when you just run out of ideas or inspiration to write new posts…
Sitemeter
Sitemeter is not really a WordPress plugin but just an HTML snippet which can be integrated into just about any webpage so long as you can edit its HTML coding. Sitemeter offers a free account and is an excellent way to keep track of the traffic your blog is attracting. It provides hit count, world map views, IP addresses, visit duration and other important information about your blog traffic.