Best Free Content Management Systems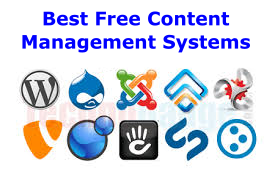 Open Source Web CMS Software Comparison
With web content management system (Web CMS), website owners can create and control their web materials such as HTML documents in an easy way.
Free and Open Source CMS Comparison
CMS software can be cheap or even free. There are tens of free CMS software available for download in Internet. Every user has his requirements for his website, and every CMS has its advantages and shortcomings. Through comparison, a user can find his best free CMS solution.
For example, MODx, the reputedly most promising CMS software, may be the best choice for a user. Before making his final decision he can compare MODx with other excellent CMS software through a few ways:
The first thing he should consider is the basic website knowledge. MODx is PHP CMS software with excellent flexibility. But ideally a user should have a grasp of Xhtml and CSS. Otherwise he may have to pay for the Templates designed by professionals to set up a good-looking enterprise CMS website. Controlling Xhtml and CSS codes in MODx, he can create almost any HTML contents for his website.
The second is the type of the website. If a user wants to create a blog website, WordPress is fantastic. But if he wants to create other types of websites, hacking WordPress is really a piece of work. Under this circumstance, MODx would be a better choice.
The third is the scale of the website. If a user wants to create a very big website like a portal site, Joomla! would be fantastic, for it has a big collection of components and modules available for download. But if he just wants a small business site, he may have other good choices.
The fourth is the difficulty of web development. If a user is an excellent website developer, Drupal may be his favorite. But if not, Drupal may be too difficult to use, and MODx would be a better choice.
Top Free Content Management Systems
There are other free CMS software available for download. They include:
SilverStripe is a powerful, efficient-to-use, and intuitive open source CMS solution for website owners. A user can drag and drop pages to manipulate his sitemap and menus.
Cushy CMS is an online CMS platform free for unlimited users and unlimited sites.
Pligg CMS includes a social networking system that encourages visitors to register on websites and connect each other.
Frog CMS is a free and open source PHP CMS. It has simple template codes and is very easy to use.
Other excellent free CMS solutions include TYPOlight, dotCMS, Expression Engine, Radiant CMS, ASP Content Management, and Concrete5. They have their own strong points. Before goes any further with using a system, an overall comparison will be very helpful to avoid wasting time.